STEP 1
Wash Hands Thoroughly with Soup & Water


STEP 2
Remove the protective cap


STEP 3
Press White Side Against Skin, Then Gently Push Down to Activate

 


STEP 4
Place 1 Drop of Blood in Sample Well



STEP 5
Place 1 Drops of Developer onto Blood Sample


STEP 6
Read Result Within 10 Minutes
HOW TO READ THE RESULT

Negative Result

No HIV Dectected. Pink line next to "C" and NO pink line next to "T"

 

Positive Result

HIV Detected. Pink line next to "C" AND a pink line next to "T".
Note: If there is no pink line next to "C", regardless of whether there is a pink line next to "T" or not, the test is invalid and must be repeated using another CORETESTST HIV Tester
YOUR KIT CONTAINS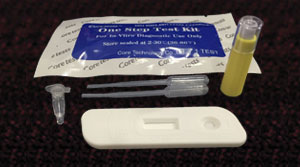 Disclaimer:
The steps involved in performing the test must be followed exactly. No body fluid other than blood may be used. If there has been a possible exposure to infected blood, and the person tests negative for HIV, the test must be repeated in 12 weeks and, if still negative, again in 6 months. It is imperative that a positive HIV test result be followed by a doctor or clinic for retesting using Western Blot or PCR to confirm whether a person is infected with HIV or not. Geodesic MediTech Inc. assumes no liability for the use and/or results of the CORETESTST HIV Tester test kit.